Discover the solutions for your beach holiday near Battipaglia
Battipaglia beach
The beach of Battipaglia is wide and ventilated, equipped with bathing establishments, restaurants, bars and games for children , quiet because it is far from the urban center about 10 km ( the hotel has a paid shuttle service ).
The coast offers clean and well-kept beaches in every particular, sandy and shallow seabeds, for this ideal for families and children .
Those who prefer can reach other beaches towards the south in the province of Salerno: from the pearls of the Cilento Coast to the wonders of the Amalfi Coast , there are many beaches in the province of Salerno from visit! The Hotel Palace staff will be able to give you the right advice to experience the sea, between sun and relaxation, in the most beautiful beaches of the province of Salerno!
Establishment agreement
Guests of the Hotel Palace can enjoy the convenience of affiliated bathing establishments which are located a short distance from the hotel on the south coast of the Salerno coast.
The bathing establishments in agreement with our hotel offer various services including equipped beach, guarded parking, services for children, entertainment, sports fields and good food .
For the enjoyment of adults and children, as an alternative to the days on the beach, during the summer the hotel guests can enjoy the convention of the Hotel Palace with the AQUAFARM, the amusement park located on the Salerno coast 15 minutes by car.
---
AQUAFARM water park
The Hotel Palace offers all its guests a discounted rate: a 20% discount on the price of the admission ticket .
You can access the AQUAFARM every day from May 26th to September 9th 2018 from 9.00 am (Park opening) to 6.30 pm (Park closure). AQUAFARM, the only water park with the beach of southern Italy, is in Battipaglia in the province of Salerno a few minutes from the Hotel Palace ! A large pool of 1500 square meters and many spectacular slides are ready to welcome you and give you emotions to remember.
For a moment of relaxation, immerse yourself in the hot tub or take a tan on the beach, in the large solarium and relaxation area, or in the fantastic garden.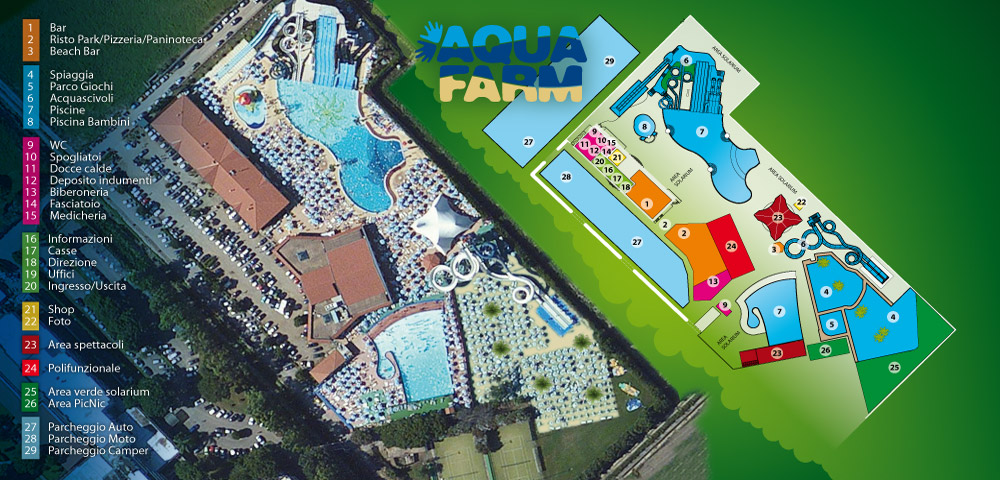 Children can dive in the large children's pool, or spend time in the space dedicated to them: PaiP Park. A new area of approximately 500sqm dedicated to younger guests - an oasis where 8 towers rise from a distance, from which they extend with 14 slides of different lengths, between colors and water spray in total safety and tranquility just a few steps away from mum and dad - or have fun with RIDESPLASH and its two TOBOGA BABY slides and the KAMIKAZE BABY. And for the little ones, mothers have access to a well-equipped baby room inside the Risto-Park.